Combining Shutter Styles
Louver or panel shutters? Why not have it ALL?- Recently, one of our Instagram followers noted how interesting it was that a photo on our profile had different types of shutters on the top and bottom floors. In fact, a quick look through our gallery will show you many homes with combinations of different shutter styles on the upper and lower floors. It's somewhat popular, and the history behind it is pretty interesting, too!

Traditionally, shutters were purely functional in nature. Before screens and even paned windows, they existed primarily for privacy, security, and protection from the elements.

As such, many homes had panel shutters on the downstairs windows. This created a solid closure on the window opening. Additionally, homes often had louvered shutters on the upper floors to allow for the same protection with the added feature of louvers to improve ventilation (since heat rises), light, and of course looking out with some degree of privacy.

Interestingly, people often favored a particular color scheme. The bottom floor had white panel shutters, and the upper floors often had black shutters with operable louvers. The black-and-white palette is timeless, but this application has waned in popularity. We did have this gorgeous project that included it, however. Check out the picture below to see a modern example of this look.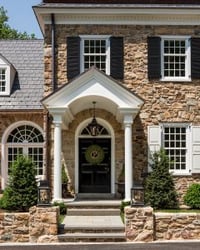 According to Old House Guy LLC, this arrangement was popular in the 19th century. Homes often had dark louver shutters to allow for extra shade while permitting a breeze to allow for afternoon naps. White panels offered privacy and security on the first floor, and a brighter interior when dim candlelight was the only lighting option. Genius!
The top louver/bottom panel is a favorite for homeowners combining shutter styles. Check out some more examples below!

Other Shutter Combinations
Recently, folks in coastal climates have been using a combination of Bermuda Shutters and operable louvers. Now, instead of just operable louvers to allow the perfect amount of sunlight and those cool off-shore breezes, Bermuda Shutters are often placed on the lower level. These shutters are hinged from the top allowing more ventilation into the home on those hot summer days. It's a great choice for homeowners in the right climate and with the right architecture, such as those pictured below.

Would you place a combination of different shutter styles on your home? Why or why not? And if so, which kind would fit best?