Which Exterior Shutter Style is Best for Your Home?
Exterior shutters come in many styles, but which shutter style is right for your home? Well, it's a good idea to consider your home's architecture. This will give you some direction in selecting shutters for your home. For instance, a Colonial home's traditional shutter style is different than farmhouse shutters.
Now, you may find that you prefer a different shutter than the usual style for your home. That's okay! Whether or not you want to install the traditional shutter pairing for your house style, there are plenty of ways to personalize your shutters. Concerned that using the "typical" shutter will box you in? Consider color, custom options, and even cutout designs to make it your own.
Ultimately, your choice should be the something you love. However, to get started (and for all the historically-oriented traditionalists out there), we'll be discussing shutters for the home based on its style. But first, let's cover the basic exterior shutter styles available.
Shutter Styles: The Basics
Whether you prefer a classic look or rustic charm, there is a broad variety of shutter styles to choose from. And creating the perfect look doesn't end there! Every style can be customized to reflect your taste.
There are five basic styles: Panel, Louver, Board & Batten, Bermuda, and Mission Style. (In addition, sometimes you will see combination shutters which incorporate both panel and louver styles into one shutter.) Ready to learn some shutter style basics? Keep reading.
Panel Shutters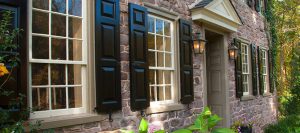 Nothing says tradition like a well-crafted panel shutter. A time-tested classic, the panel shutter remains popular to this day. The panel design may be a raised panel, flat panel, or recessed panel (which looks a lot like a raised panel, especially at a distance. Due to their insulative properties, panel shutters are common with house styles that were built in colder climates when shutters were always functional and used to cover windows.
Louver Shutters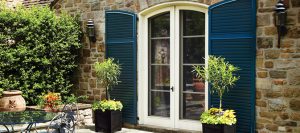 Louver shutters are a popular choice in American architecture. Louvers are the little slats that can open and close in operable louver shutters, or remain at a fixed angle in fixed louver shutters. This style also can be configured into sections like a panel shutter. Louver shutters are a popular choice for homes in more temperate and warmer climates as they can provide ventilation and, if operable, can close to keep out cold, sun, and rain.
Board & Batten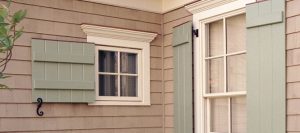 Board and batten shutters are a more primitive design that likely originated in the countryside, farther from the artisans who made panel and louver shutters. Their simple design was easy for those who had to build shutters themselves: just a row of planks (boards) aligned lengthwise and connector planks (battens) running horizontally at the top and bottom. As a result of their humble beginnings, board and batten shutters look right at home on farmhouses and cottages - though they fit many other styles, as well.
Bermuda Shutters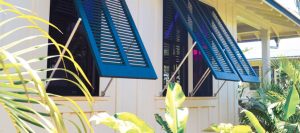 Bermuda shutters are unique among the shutters listed here. This style (also called Bahama shutters) opens outward like an awning. Bermuda shutters feature slats like a fixed louver shutter but are hinged and connected at the top of the window instead of on the sides. These shutters are excellent for blocking light while allowing a breeze. They come with varying slat widths and spacing, either with or without a middle horizontal bar to divide the top and bottom. Bermuda shutters are often found on coastal homes, tropical homes, and beach houses.
Mission Style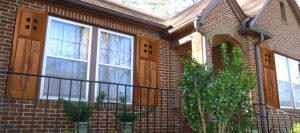 Mission Style shutters are the go-to shutter style for Craftsman Style homes (also called Arts and Crafts Style homes). These emphasize the geometric simplicity and clean lines often associated with the classic Arts & Crafts movement. Due to their varied designs, there aren't many unifying features, other than the emphasis on physical, geometric design. These designs are generally achieved with layered wood cut to shape and overlaid on another board of wood.
How to Choose Shutters for Your House Based on Style
Below, we will list guidelines on choosing shutters for your home based on house style. But remember, at the end of the day, it's YOUR house. So, of course, you can always simply pick the shutter style that you like best.
Farmhouse Shutters
The shutter style that best matches these trends is board and batten shutters. Of course, other looks work, since it is a loosely defined style. But when you see farmhouse exterior shutters, they are often board and batten. Panel shutters, particularly clean, flat panels, can be a great choice for farmhouse shutters as well.
Colonial House Shutters: Shuter Styles for Federal Houses & Georgian Houses
Colonial houses look almost naked without shutters. Many of these homes were built in (or inspired by) the houses of America's colonial times. At that time, shutters were always functional. As such choosing shutters for a colonial house follows the functionality of how shutters on colonial houses were often used. The first-floor windows tended to have panel shutters for privacy and protection from weather, pests, and intruders.
The second floor often featured louver shutters for the colonial home, since heat rises and the ventilation allowed by louver shutters was ideal. Sometimes colonial homes had panels on both floors, as well. It is not uncommon to see both variations still in use today.
Victorian House Shutters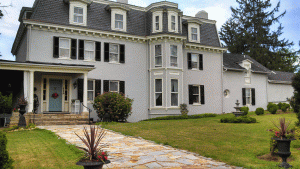 Because of Victorian homes' extensive attention to detail, shutters for Victorian houses also tend to be elaborate. The best shutter styles for Victorian homes fall into three categories or, like colonials, can be combined across floors. A flat panel shutter is a good choice when you need something with just enough detail not to look plain in contrast, yet also not distract from the rest of the architecture.
Operable louvers are another popular style of shutters for Victorian houses. The functionality adds utilitarian features which contribute to the overall visual interest without pushing it over-the-top. Sometimes you will see a combination of flat panels on the first floor and louver shutters on the second.
The third option for traditional Victorian house shutters is a combination shutter. These feature multiple shutter styles on one shutter. Generally, one panel section and one louver (either fixed or operable) section - though sometimes there are more customized divisions with multiple panels or separated louver sections. These fancy shutters are a perfect complement to the fancy Victorian style.
Craftsman Style Shutters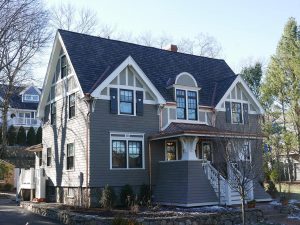 The Craftsman Style house is an increasingly popular architectural style. These homes feature low-pitched roofs with deep porches and heavy columns, built with stone or brick bases. A lot of interior details make the Craftsman style stand out, such as built-in bookcases and exposed beams. All of this was meant to showcase the beauty of handcrafted homes, as the name might suggest.
One of the best styles of shutters for a Craftsman Style house are Mission Style shutters. Both Craftsman and Mission style homes came from the larger Arts & Crafts movement. Craftsman Style home shutters ought to reflect the same interest in clean geometry and attention to detail that is shown in the architecture itself. With their geometric design features, Mission Style shutters mirror many of the same shapes seen in Craftsman style homes.
And while Mission Style seems like the perfect match for Craftsman house shutters, fixed louver, Bahama, or board and batten shutters (especially with Z-brace) can complement these homes, too. Depending on the specific look of the home, another shutter style may be well-suited to its windows.
Cape Cod Shutters
The Cape Cod began as a modest style within the Colonial Revival. Its structure allowed young families to begin with a smaller, affordable house and construct additions when needed. Its trademark features include a steep roof with side gables, front-facing dormer windows, centered entry, and unfussy aesthetic, without frilly details.
Cape Cod houses often look incomplete without shutters. They can, however, take basically any style of shutter you can imagine. This offers a lot of design flexibility and opportunity for personalization. If you want a cute, rustic, cottage-style look, board & batten shutters or panel shutters with cutout designs are an excellent choice.
Looking for a more refined, stately finish? Raised panel, louver, or combination shutters are ideal. If you like a laidback, tropical, or bungalow feel, consider Bermuda shutters. Not to exclude any possibility, the Cape Cod is so versatile, you can install Mission Style shutters for an Arts & Crafts influence to the exterior. Truly, Cape Cod shutters are a you-call-it situation, depending on the characteristics of your particular home.
French Country Style Shutters
French Country homes tend to have a natural, unpainted exterior made of brick or light-colored stone. Also common with this style is clay roof tiles on a tall, hipped roof. There is generally an emphasis on symmetry, arched windows, and heavy stone railings.
Depending on the layout of your French Country home, board and batten or panel style shutters will look flawless. On many French Country style homes, there are arched windows. For these styles, radius-top shutters will be necessary. Radius-top shutters can be made in any style but Bermuda shutters.
Italianate House Shutters
Italianate Homes became popular in the US around the mid-to-late 1800s. Inspired by Italian villas and incorporating details that could be applied to houses of different budget and stature, Italianate homes soon spread an eclectic look throughout the country.
Common elements include a low-pitched, flat roof, a square tower, arched windows, and rectangular shape overall. Cast iron details were also popular, especially due to industrial advances which made them more affordable.
The best shutters for the Italianate style home are board and batten or louver shutters, often with a radius top. Board and batten shutters bring a sense of simplicity to the ornate designs of the Italianate, while also functioning as a callback to their Italian villa roots.
Louver shutters are also a great option when selecting shutters for Italianate homes. Because these house styles are derived from warm climates, louver shutters' ventilation capabilities made them an obvious choice.
Greek Revival House Shutters
The Neoclassical or Greek Revival period of American architecture brought many intricate details to houses and public buildings around the US. Houses built in this style featured heavy and substantial, yet simple details.
Elements drawn from Greek temples such as a heavy cornice, entry porch with tall columns extending to the roof above the second story, a pedimented gable, and symmetry across the square or rectangular structure were common. Sometimes the high-ceilinged entry porch was absent, with a portico sheltering the entrance instead. Other popular features included pilasters and molding details such a dentilation.
The most common choices of exterior shutters for Greek Revival homes were flat panel and louver shutters. Oftentimes, these would be installed with louvers on top and panels on the bottom, much like the Colonial trend. The flat panels' simple design paired well with the stately simplicity of other Greek Revival elements. Louver shutters offered the breeze needed on warmer second stories without clashing against Neoclassical design.
Mediterranean and Spanish Colonial House Shutters
The Mediterranean architectural style was adopted in many new designs throughout the US, particularly the Southwest. This style is very recognizable due to its emphasis on arched doors, warm stucco, curved tile roofing, and ornate details with Spanish flair. Wrought iron balconies or window grilles, concrete ornaments, and arched windows are common.
Board and batten style is a great choice of exterior shutters for Mediterranean and Spanish Colonial houses because they embody the rustic feel of the style overall. Additionally, Spanish Colonial and Mediterranean style houses are often in warm climates, where louver shutters are another great option due to the shade and ventilation they offer. Many Spanish Colonials feature radius-top shutters because arched windows are commonly incorporated into the architecture.
Ranch House Shutters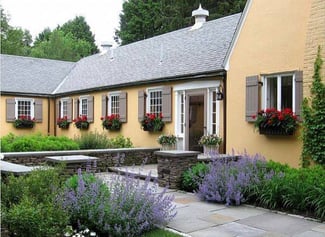 Most people can easily identify a Ranch style home. One-story, wide, and usually asymmetrical homes constructed in a U- or L-shape spread quickly throughout the US in the 1950s. The high era of Ranch style homes extends from the 1930s - 1990s, however. A great choice for families, as they were easy to add to when families grew. This style tends to feature a long, low roofline, open floor plan, sliding glass doors, and large backyards.
Ranch style shutters, like those of a Cape Cod, give you the freedom to choose pretty much any style. The cues as to which shutter style is right can be found throughout the home itself. The most common shutter style installed on Ranch homes is the panel shutter. This gives the exterior a bit more formality. Board and batten shutters, on the other hand, can give Ranch homes a cute, country feel.
Mission Style shutters can also add a nice touch of personality to a generally unornamented exterior. Bermuda shutters also create texture and are great for windows that receive too much light and heat the inside of the house. Additionally, functional louver shutters can serve the same purpose. The best way to decide is to visualize the various styles on your home and decide what you personally like best.
Ready to find your perfect shutters?
Now that we've covered different shutter styles for each house style, you can head over to our Gallery for a little visual inspiration, or view our Shutter Styles page to get a closer look. Or...if you're a talker, one of our Shutter Experts would be happy to answer questions about your particular house! You can Request a Call here.