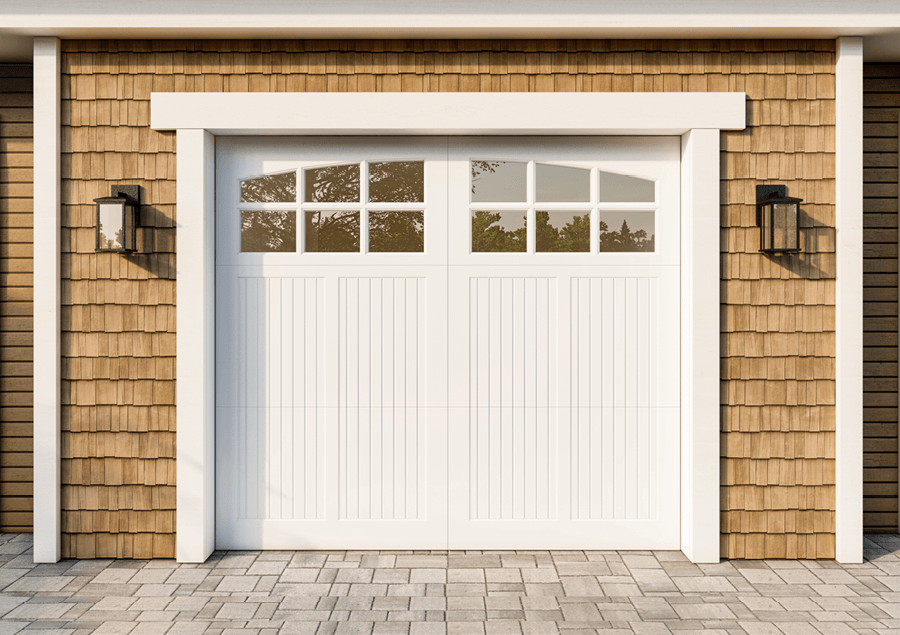 Garage doors are hard to miss. You can't help but see them every time you leave and come home. There's no denying that a garage door has a significant impact on the way your home looks.
If you want to spruce up your home's exterior and increase curb appeal, a new garage door could be the perfect solution. Garage doors aren't just about adding to your home's beauty, though. They also serve functional purposes, too.
That's why choosing a garage door is no simple task. Many factors go into picking the perfect garage door. It needs to be practical and stylish. It also needs to be durable and match your home's style.
Here's everything you need to know about how to choose the perfect garage door for your home.
What Size Garage Door Do I Need?
The first thing you need to find out when selecting a garage door is the size you need. A single-car garage door is generally between eight to nine feet wide and seven to eight feet tall. A double-car garage door is usually the same height but double the width, at around sixteen feet.
Of course, these are just average estimates. If you have a tall vehicle that your garage accommodates, you'll need a taller garage door. You can easily measure your current garage configuration to figure out what size you need.
You'll have to measure the width and height of the opening (not including the stop molding) to get the size of the garage door.
You also need to make sure there's enough room inside the garage for the overhead tracks and springs and the garage door to open into the garage. Every manufacturer has different requirements.
However, custom garage door builders can build a garage door that is custom-made for your unique size requirements instead of a standard option. (Avoiding the sizing headache is a common reason people choose custom builders like Timberlane.)
Navigating Garage Door Styles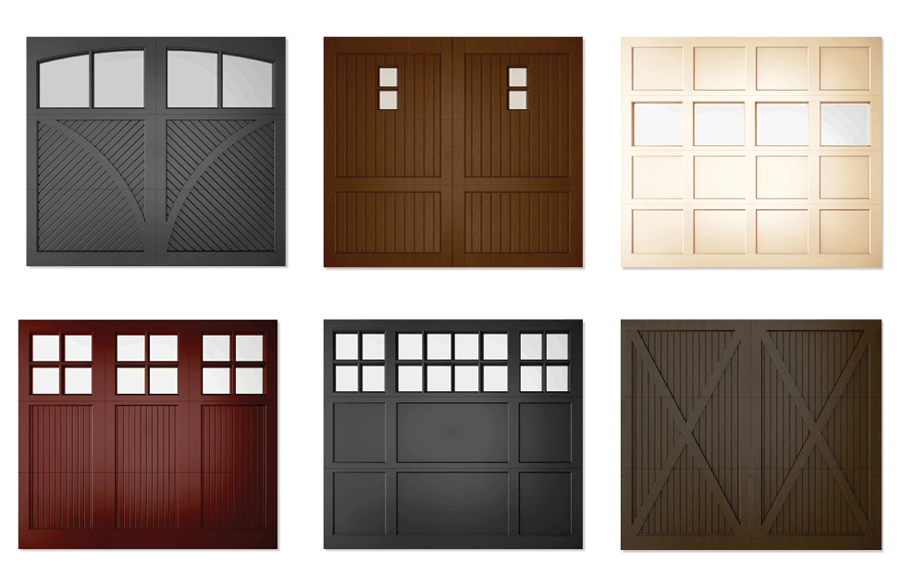 Once you know your garage door size is , the next are a lot more exciting. The garage door is all about personal preference and the style of your home's architecture.
There are a seemingly infinite number of garage door styles out there, but some of the trendiest styles include:
Many homeowners choose garage doors that fit their home's existing exterior to increase the property value. However, the most important thing is that you choose a style that you like.
Garage Door Materials: Which is Best?
There are so many different garage door materials on the market. Some of the most conventional options are:
Wood
Wood Composite
Steel
PVC
Aluminum
Fiberglass
Vinyl
For the material, you have to consider a couple of things:
First, it's about the appearance and how you want your garage door to look. Do you want it to have the rustic appearance of a traditional wooden door? Then, wood, a wood composite, or material like PVC or Vinyl made to look like wood could be your best bet.
Additionally, you'll want to think about longevity and how long you want the door to last. When choosing the right material, it's about finding that balance between garage door costs, appearance, durability, maintenance, and longevity and going with one that aligns with your goals.
Choosing Garage Door Colors & Finishes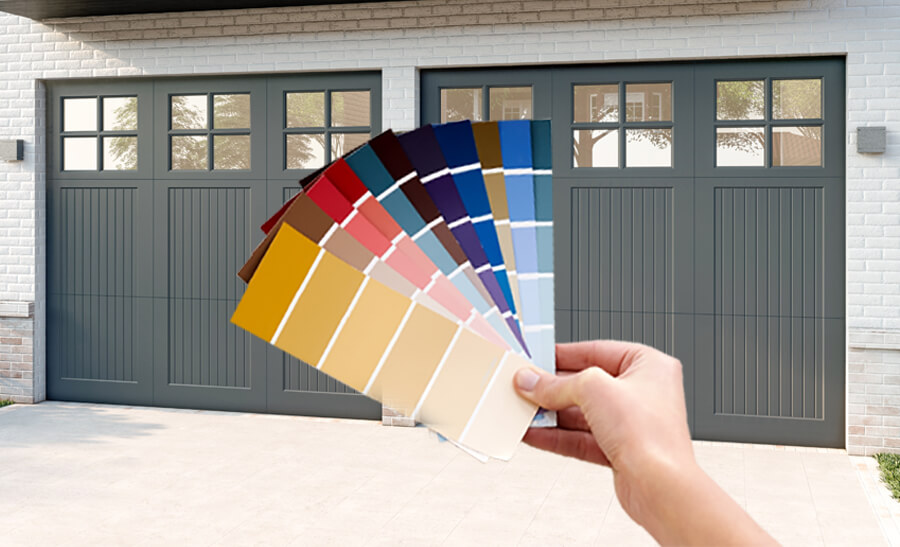 Choosing colors and finishes is a lot like selecting a style. It's all about your personal taste. You can choose a bold color if you want to make a statement. You can color match your garage door to other parts of your home's exterior, like your shutters or trim. Alternatively, if you went with a wood or wooden look for your garage door, you can opt for a stain finish instead. A stain can elevate the beauty of the grain and darken the wood.
The color or finish you choose should be one that complements your home's aesthetic and gives you the look you desire.
Does My Garage Door Need Windows?
Windows are another choice you need to make. They aren't required, but windows can add extra character, intrigue, and curb appeal to any garage door. They also help provide your garage with natural light.
There are all kinds of different window designs to fit with nearly any garage door style. You can have as many as you want in almost any configuration you can imagine. There are also different styles of glass available.
There's insulated glass, clear glass, textured glass, and tinted glass. If you choose a custom builder, you can have any type of glass you can dream up. Ultimately, garage windows are a matter of style and personal preference.
What About Insulation?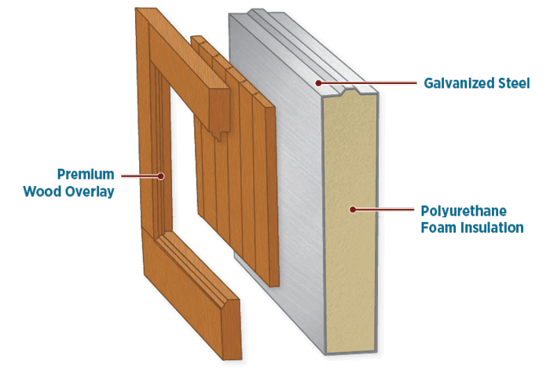 Insulation is definitely worth considering for your garage door. An insulated garage door helps keep your garage protected from inclement weather and helps your garage maintain more stable temperatures. For instance, an insulated garage door can keep a garage cooler in the summer and warmer in the winter.
Insulation also helps with energy efficiency. The garage door is one of the home's largest entry points, making it susceptible to significant energy loss. An insulated garage door helps make your garage more energy efficient.
The added insulation can also keep outside noise from entering your home through the garage.
What About the Finishing Touches?
There are a few other finishing touches for the perfect garage door. For instance, do you want panel designs like vertical lines, herringbone, or a chevron design? What about milling options, like beaded and V-groove?
There's also decorative hardware. Do you want any decorative latches, stylized hinges, door knockers, or pull handles to bring your garage door from ordinary to extraordinary.
Keep in mind, if you purchase your garage door from a big box store, you won't have customization options. They are still things you can be on the lookout for, but they usually aren't anything you have a say in – unless you go with a custom garage door builder.
Cost Considerations
The other thing to consider is your budget and how much you want to spend to increase your home's curb appeal. Garage doors come in varying price ranges. The more basic varieties are going to be cheaper than the more aesthetically appealing, insulated garage doors.
A garage door replacement has an average ROI (return on investment) of 94.5%! In other words, you will recoup almost all of what you spend on a new garage door in increased property value.
How to Choose a Garage Door for Your Home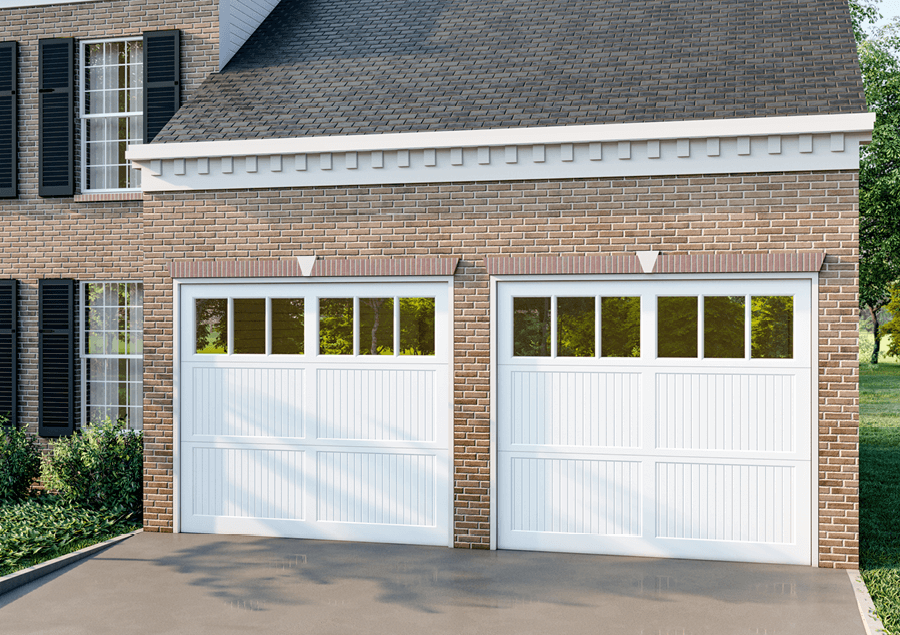 There you have it. You now know everything about how to choose the perfect garage door for your home. Ultimately, you want to pick a garage door that has all the features you want and need.
If you can't find a garage door anywhere or you want something truly unique, consider going with a custom builder who can build your garage door from scratch. Then, you don't have to worry about choosing a garage door at all. Instead, you'll be designing the perfect garage door for your home.