Fall Color Trending for Home Exteriors Home Decorating
Blue soars to the top of the list for Fall 2016's leading color, according to Pantone's Fall Fashion Color Report. But what does fashion have to do with home exteriors? Everything.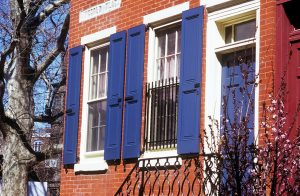 "The desire for tranquility, strength, and optimism have inspired a Fall 2016 color palette that is led by the Blue family… Blue skies represent constancy as they are always above us. Grays give a feeling of stability, Red tones invite confidence and warmth, while the hot Pinkish Purples and Spicy Mustard Yellows suggest a touch of the exotic." - Leatrice Eiseman, Executive Director of the Pantone Color Institute™
Color evokes a mood and can play a big part in self-expression. The key in exterior home decorating is understanding how to leverage color trends to embrace a more current look, while not growing bored over the long term. After all, the popular Avocado Green from the 1970s may not be your top choice for a 2016 home exterior accent!
Here are 5 tips on how to make it work for you
#1 Always, always, always consider what you like
This year, it's easy, because BLUE usually tops most rankings for America's favorite color. The exterior of your home is the first thing you see when pulling into your driveway, so you want a color that best conveys the feeling you want. If you select a color you naturally like, you are less likely to grow tired of it over time.
Compare how different each stone home looks as a result of the shutter color:

#2 Tone it down…or up
Even if you opt for BLUE, you can customize the hue. Adjusting the tone of the blue, either lighter or darker, and modifying the saturation, can dramatically change the intensity. That way, you can find a color that best complements your taste and your existing exterior color. Shown here, are Timberlane's Blue Lagoon, Timberlane's Blue Topaz.
#3 Keep it classic
Whether you prefer BLACK or WHITE, these perennial colors have never gone out of fashion. Achieve your desired look by selecting the style, like traditional panels or a more distinctive style to help set your home apart from the rest.
#4 Know what's right for your home
Some shutter colors and exterior colors are wonderful pairings, but not all combinations are harmonious. Choosing complementary colors or analogous colors frequently results in success. If your home is white, BLUE is an easy, crisp choice…but look how great BLUE accents this beach home which has a sandy-colored façade.
#5 Play the trend
Adorn your home with classic colors, but indulge the color trend by adding pops of color, either through gardening accents, pillows or other more change-ready items. This technique even allows you to embrace colors like this season's Spicy Mustard Yellow!
Reference: http://www.pantone.com/fashion-color-report-fall-2016?from=topNav#hero