When it comes to curb appeal, stone homes don't need a lot of help. Stone facades are naturally breathtaking with their intriguing blend of complementary colors, their earthy feel and their rich texture. Admiring a stone home is like taking a trip back in time or paging through a storybook.
If you want to enhance that natural beauty, preserve that historic authenticity, and make your stone home stand out, exterior shutters could be the perfect finishing touch!
Choosing the right shutters for a stone home might take a little bit of time, but the extra effort could yield some incredible results. Just take a look at these six stone homes and their beautiful use of exterior shutters; you're sure to be inspired!
1. Blue Panel and Louvered Shutters for a Dreamy Colonial Appeal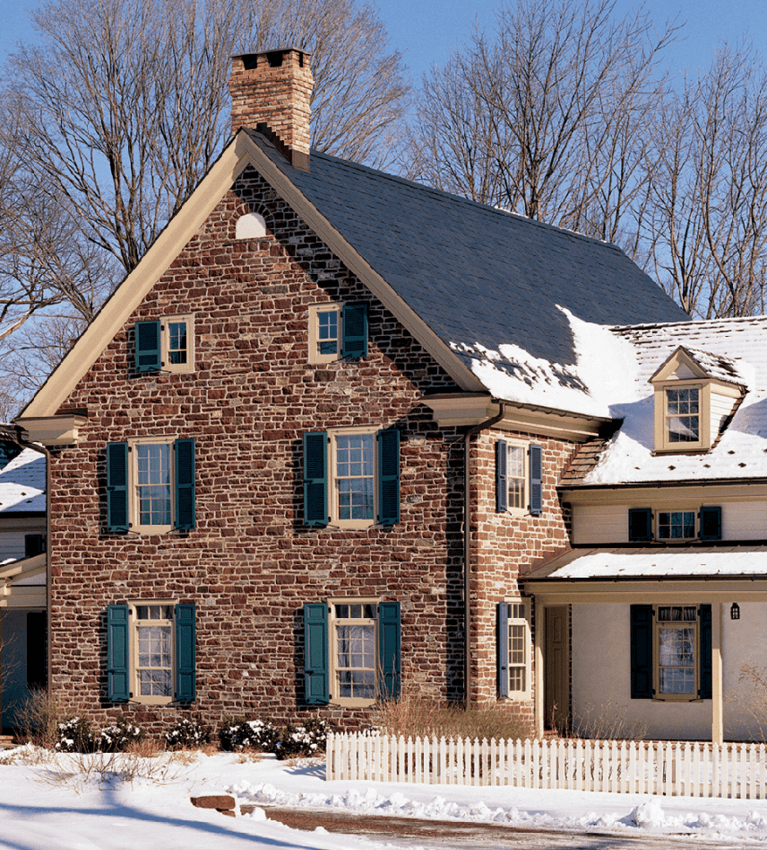 With so many different-sized windows and a mixed stone and siding exterior, this home needed shutters that complemented the overall color scheme while blending with the Colonial feel. Mission accomplished!
Although the green-blue tint of the shutters seems like a bold choice, we think this color works perfectly with the rusty red of the stone facade and the beige window trim. The risk taken by the homeowner pays off in incredible curb appeal and truly makes this house one of a kind.
As for the shutter styles, the homeowner went the historically accurate route by placing classic panel shutters on the first floor and louvered shutters on the second floor. This is how homes were designed in Colonial times, when shutters provided security and helped with ventilation.
2. Natural Wood with Cool Grey Stone

This grey stone home manages to balance an elegant look with a welcoming feel. The light-colored finish of the wooden shutters and door trim give this home a cozy warmth that's both interesting and inviting, and the matching fencing is a perfect complement to the home's exterior.
3. Deep Red with a Warm Brownstone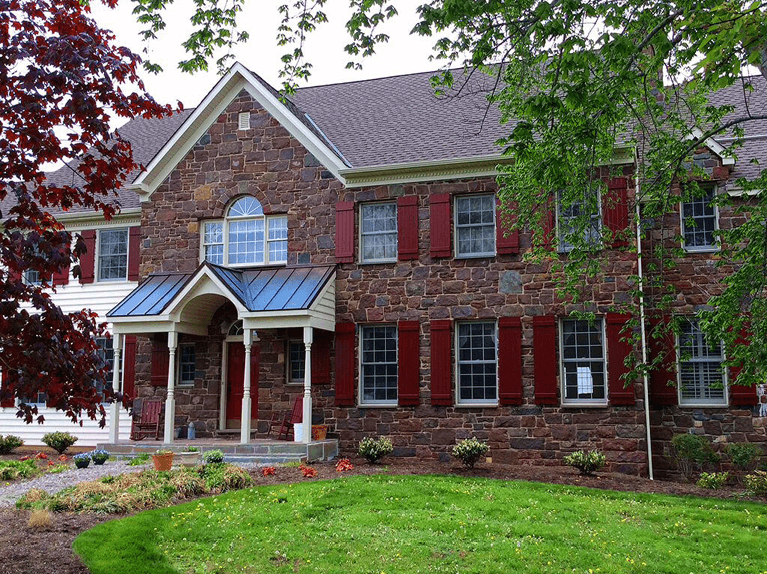 When in doubt, use the stone's accent color to inform your shutter color choice, like these homeowners did. This breathtaking brownstone is lovely on its own, but the deep red board and batten shutters really elevate the look to new heights. This color choice is perfect because it helps bring the red hues out of the brownstone and perfectly complements the home without pulling too much focus away from the beautiful porch and window on the front of the house.
You'll also notice how stunning the red looks against the white siding and how the same color was used for their front door. This home's exterior really captures what's possible with a focused exterior design.
4. Radius Top Sage Green Louvered Shutters with Mixed Stones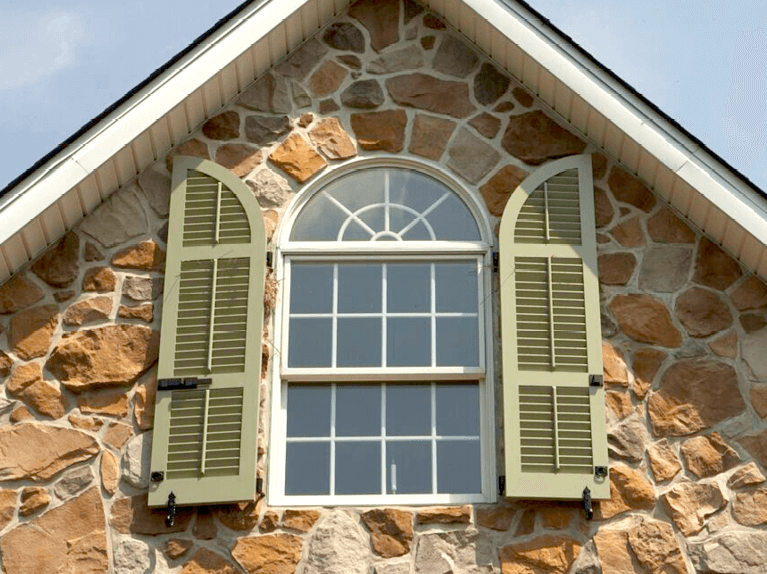 When a home's stone exterior is filled with a number of different colors, choosing the right color can be a bit challenging. In this case, sage green pairs perfectly with the mixed stone, and the black hardware really elevates the whole look.
Some homeowners decide to leave their arch top windows without shutters; however, these homeowners decided to highlight them with a radius-top shutter, instead – and look at how beautifully it came together! There are many elements here, but together, they create a genuinely awe-inspiring finished look.
5. Natural Wood Louvered Shutters for Historic Charm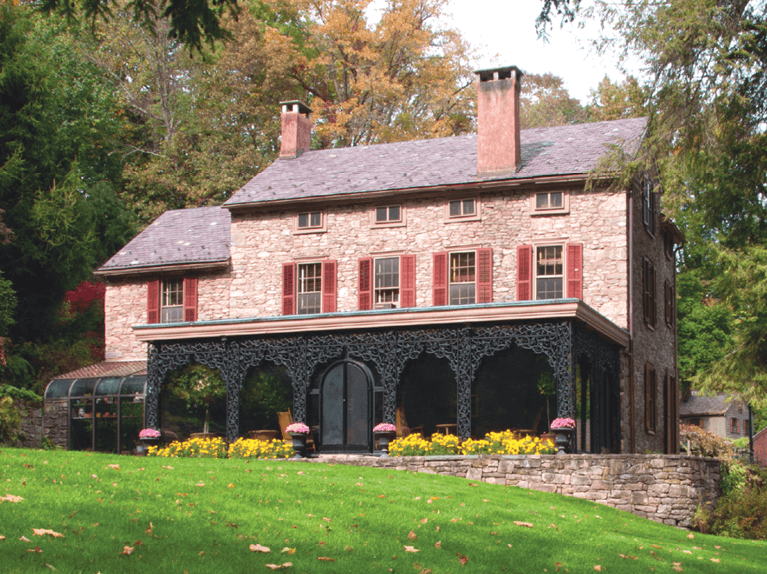 This historic home has a lot of exciting elements. From the black iron porch and latticework nursery to the stone siding and lush foliage, picking shutters for this historic home could not have been easy.
The natural wood, louvered shutters really add to the old-world charm of this home. Choosing the louver style and the natural wood grain was a great move to bring the whole historically accurate look together.
6. Green Board and Batten Shutters For Rustic Cottage Charm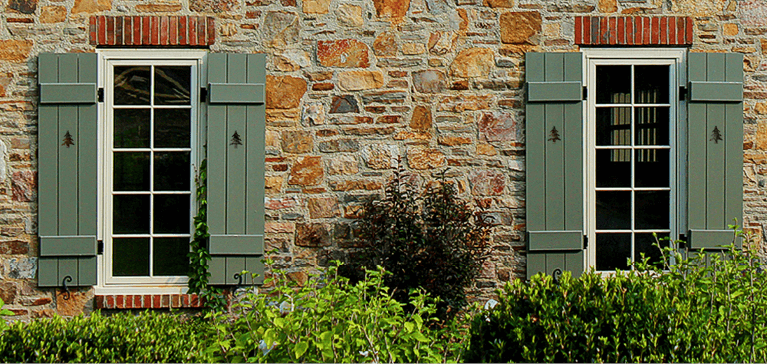 This mixed stone cottage-inspired home looks lovely with these light green board and batten shutters, complete with black hardware. If you look closely at the left window, you'll notice a creeping vine intertwining with the shutter, further illustrating just how perfectly this shutter style and color blend with the home's natural surroundings and evoke a rustic feeling.
It's not always easy to pick shutters when you're dealing with multiple colors and aesthetics, but the choices for this cottage-style home were absolutely ideal.
Choosing the Right Shutters for Your Natural Stone Home
Choosing the perfect design for your home's shutters doesn't have to be a complicated process. Ultimately, you want to select a color and style that complements your home's stone and suits the aesthetic you're trying to establish.
Are you still unsure which shutter color pairs best with your home's stone exterior? Here are a few tips and guidelines to help inform your choice.
Use the stone's accent color for the color of your shutters.
For a bolder look, try black shutters against a tan-colored stone.
Silvery grey stone always looks great with cooler tones, like blue, green, black, and purple.
Brown stone pairs well with white, khaki, red, slate gray, and black shutters.
Grey stone homes look great with dark green, dark blue, deep red, pitch black, or natural wood shutters.
Be sure to consider the style of your home and its other features, such as landscaping, porch and roof, to pick the perfect shutters for your home.
For more inspiration, visit our library of shutter color resources to explore all your options.