Annie Arthur of Columbus, Ohio, loves traveling the world — almost as much as she loves returning to her newly renovated "forever home."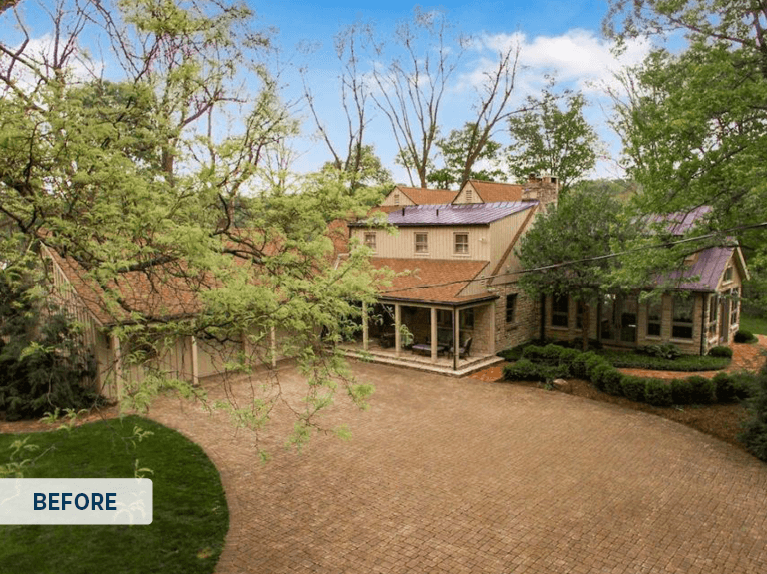 The house looked very different — and quite a bit smaller — back in the spring of 2017, when Annie Arthur and her husband, Matthew, first pulled down the long, grand driveway and laid eyes on it. But something about the scene spoke to Annie's heart.
This spacious plot of lush, green land on the banks of Ohio's Scioto River was a place where her two young, energetic sons could run around, swim and play basketball with their sports-loving dad. It was a place where her rambunctious dogs could roam free. It was a place where Annie, a busy entrepreneur and avid traveler, could totally relax.
"We were living in the suburbs of Columbus at the time, and I hated it, because I really like my privacy," Annie remembers. "I always joke, 'I love my house, because this is a secluded area, and I can go out on my front porch and watch my kids play in the yard, and it doesn't matter if I'm wearing my robe and drinking wine. No one is judging me.' "
Three years, 4,000 additional square feet, and a host of modifications later, Annie still has no doubt: She has found her family's perfect place in the world. In fact, she falls back in love with the house every time she returns from her travels, whether she's been off running errands, visiting family across the country, or jetting around the globe.
"This is for sure my forever house," she says. "It's the perfect mix of location and land and space for our family, so we definitely won't be leaving."
'Constantly Evolving'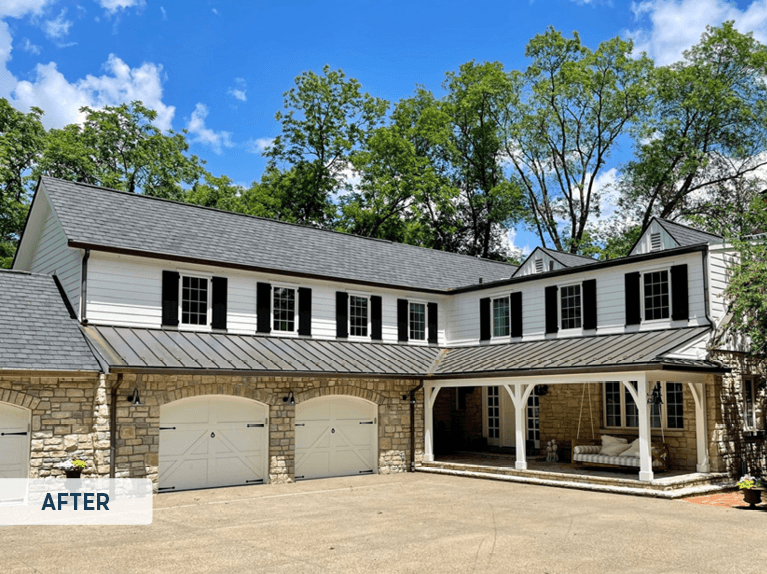 Although she loved her family's new home, with its peaceful, quiet surroundings and private boat dock, Annie knew from the start that she would re-do it. Along with traveling, renovating homes is a lifelong hobby that's pretty much in her blood.
"My mom, my sisters and I all have this affliction," she laughs. "My parents were married for 45 years and lived in like 26 houses — something insane — so my mom was constantly moving and redoing a house. I'm sure that is where I get it."
Annie's wanderlust extends to her sense of style. She jokes that as a Gemini, she has multiple personalities pulling her in different directions, and she just goes with whatever pieces or colors she likes. She has collected plenty of inspiration over the years, from vacationing in Greece and Italy to antique hunting back home in the Midwest.
With this home, Annie didn't have a particular style or size in mind. She just knew she needed more space for her big extended family and all their animals, and she wanted everything inside the home to be functional, durable, casual and comfortable. She wanted her interior spaces to reflect the property's natural beauty with earthy finishes like brick, stone and white oak.
Annie envisioned a cottage vibe for the home's exterior, with classic black louver shutters set against a mixed-texture facade that showcased real Ohio limestone.
"I wanted it to have that cottagey look, and in my mind when I think of a cottage, I think more 'Old World,' and I felt the louvered shutters were more in line with that." Annie says.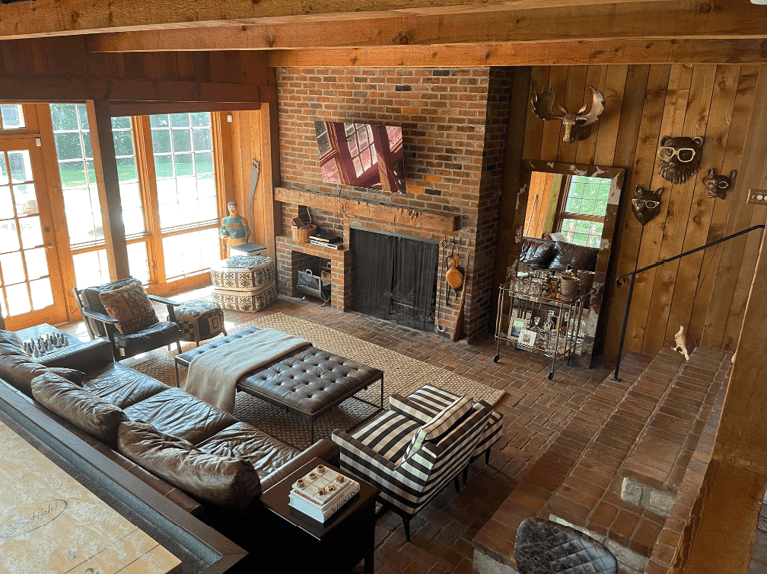 The Arthurs ended up doubling the size of the original structure, expanding the garage to three bays and building a complete second story above it, giving both children their own bedroom and a shared "Jack and Jack" bathroom. They added another bedroom on the first floor, bumping the total size of the house to 8,000 square feet, with 7 bedrooms and 5.5 baths.
The one interior room they didn't touch was the living room, with its stunning views of the river, its cedar ceilings, stone accents, and the brick flooring that inspired Annie's sons to dub it "The Brick Room."
"It's the room that sold the house," Annie says. "I walked into that room, and said , 'I love this house. I want this house. I love this room,' and we knew we could add the space we needed and then we just kind of went from there.It was a great decision. We absolutely love living here, we love this house, and I still love this room."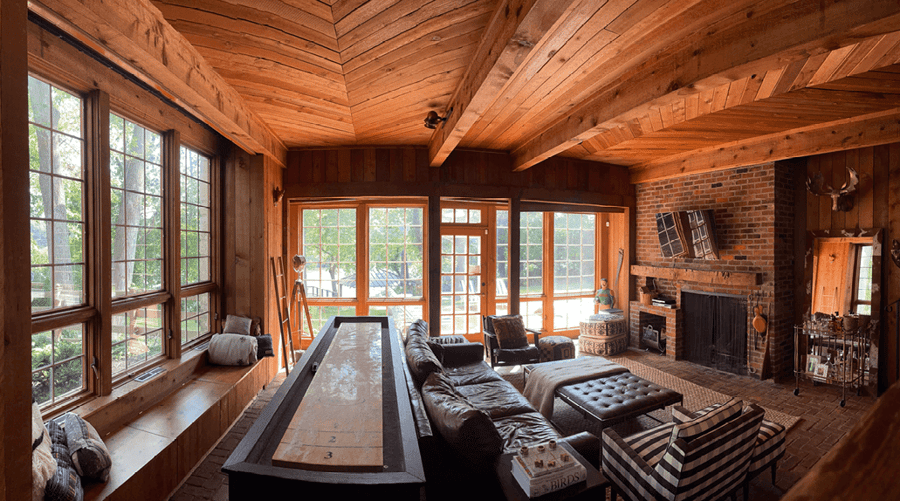 Annie says she and her husband are not quite done tweaking their home. Their plans are "constantly evolving." But they recently reached a milestone in the three-year (so far) process when they had their exterior shutters installed with functional hardware.
"The shutters were definitely a finishing touch for the exterior," Annie says. "I was joking with the guys who put them up for me, 'I feel like I got all ready, but I forgot my mascara, ' You know when you're dressed up to go out and you think , 'What am I missing?' For me, I always forget to put mascara on. That's how I felt about the house. It needed some mascara around the eyes."
The freshly gussied-up exterior allows Annie to relive that very first "Welcome home" moment from way back in 2017, every single day.
"Honestly, I still get excited to see them when I'm pulling down my driveway," she says of her shutters. "I think , 'Ah! They look so good!' They really do! It was so naked before, with just the white siding. Something was missing. It definitely wouldn't have been complete without the shutters; they make it look like a cottage."
Joy and Contentment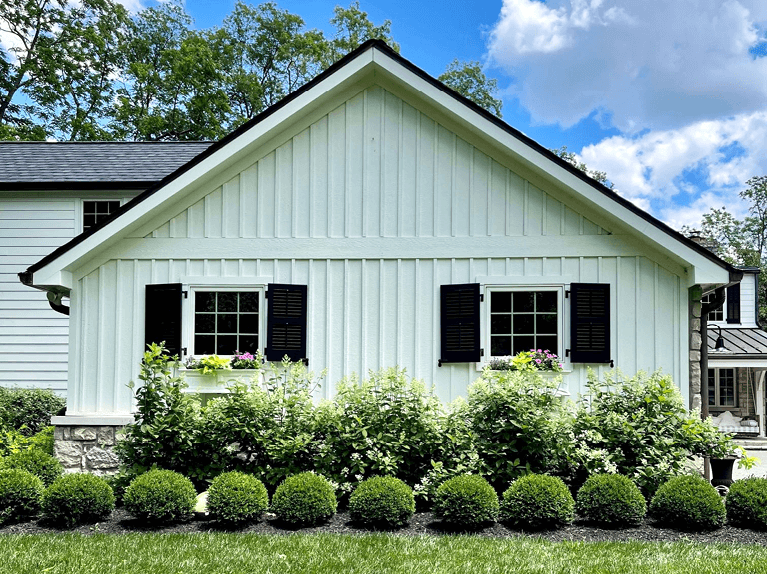 Given the adventurous spirit that constantly keeps her on the move, it's pretty remarkable that Annie has found a place where she's happy to sink roots and settle down. She might not be finished improving her family's "forever home," but when it comes to the experience of living there, she wouldn't change a thing.
Asked how she feels when she's out in her private yard, with her robe and her wine glass, watching her kids play, she chooses two strong words: Joy and contentment.
"This house is my oasis," she says. "It's functional, but it feels like a retreat. It's so relaxing being by the water and being insulated from other people in the center of this wooded lot. I pull in and think, 'Ahhhhh.' I am so happy here.
"I love traveling. But I am always happy to come home to relax. "
Do you have a Timberlane home that shines?
Show it off in one of our Customer Spotlight stories! Send an e-mail with your name, address, and a few photos, and you could be featured on our website and social media platforms!