If you appreciate the historic appeal of shutters and your windows are already decorated, there are plenty of alternative uses that we suggest. Timberlane has seen homeowners, architects, builders, and designers take their creative shutter visions and apply them to unique settings. Below are examples of our shutters used in alternative fashion.
Backdrops for Pergolas
Relax in your backyard underneath your Pergola and enjoy that swift breeze through the louvered shutter backdrop from Timberlane.
Elevator Shaft Housing
Recently featured in Southern Living for its gardens, there is so much more to the estate than was covered.
For instance, this addition here uses Timberlane Louver Shutters, which have been added throughout the exterior of the home, to artfully tie in the style of the home for the new elevator. (Yes, elevator.)
The fixed louvered shutters used here not only serve to tie in with the other shutters on the home, they also serve as ventilation for the elevator mechanisms as well as for the occupants. They offer easy maintenance access as well.
This use proves in so many ways how shutters are not just accessories or decoration, they are truly functional.
Three-Season Rooms
Using custom designed Bermuda Shutters, this homeowner created a comfortable outdoor living and dining room that can be used nearly all year.
The shutters provide protection from the elements as well as additional privacy and ventilation, especially useful around the custom grill they installed.
Restaurants - Dining Styles
We've all been on vacation and felt the instant relaxation that comes with restaurants and poolside or beachside dining. Timberlane has been at the heart of some of these dining establishments, offering a distinct atmosphere for each through custom-designed shutters that suit the needs of their customers and the business overall.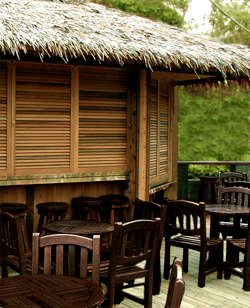 This tropical-inspired restaurant/bar in Newport Beach, California uses the shutters to lock up and further protect the establishment which is an indoor/outdoor setting. The Tiki Bar atmosphere is enhanced with the natural wood finish. These types of shutters are often used in the islands to close up shop, and "shutter the windows," as it were, when the day is done.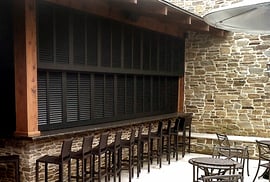 Still using the tropical theme setting, this bar has a relaxing yet elegant setting with the custom wrought iron furniture and the double hung fixed louver and Bermuda shutters.
These show that, with a little inspiration, you can extend that vacation feeling to your home and find your oasis after a long day. Make every evening a vacation, and relax in tropical style.