Although it serves a utilitarian purpose, a garage is much more than a glorified shed where we park our cars and store athletic equipment. It's not just a tacked-on afterthought meant for collecting clutter. It's a vital element of a home's overall composition, and depending on where it's located on the property, a garage can be a real attention-grabbing focal point for guests and passersby.
In other words, if you care about your home's curb appeal, you've got to treat your garage with plenty of TLC.
A custom garage door is a great way to elevate the look of a home and increase property value. Adding windows to a garage door can take that aesthetic appeal up a few extra notches and grab an even higher ROI when — or if — it ever comes time to sell the home.
If you're considering a garage door replacement, how do you decide whether to go with or without windows? What are the key factors to consider? And if you do like the idea of garage door windows, how do you know which ones to choose?
We'll cover it all, and offer some tips for selecting the perfect garage door windows for your home, in this handy guide.
What Are The Pros and Cons of Garage Door Windows?

The benefits of adding windows to a garage door ultimately depend on your home's overall style and your personal preference. If you're partial to a minimalist design or you're aiming for a more rustic farmhouse garage door look, windows might not suit your scheme. However, if you're seeking a more upscale and sophisticated look or want to make your garage more of a showpiece, windows could be the perfect detail to bring your entire home design together.
Windows give your exterior depth and character while allowing people inside to experience nature's beauty and feel the mood-boosting effects of sunlight. While windows are not quite as crucial to the inner workings of a garage, and they're certainly not required, they offer those very same benefits.
Let's break down the Pros of adding windows to a garage door.
Natural light — Why should the garage feel like a dark, gloomy dungeon? A little bit of sunshine can add so much warmth and joy to a space! Adding windows will increase visibility when getting in and out of cars or searching for items. No more fumbling for the light switch or that pesky overhead string!
Cohesive exterior — The garage can be an extension of your home's overall style, whether you're going for a modern or a more traditional look. Do you have arched windows elsewhere on the exterior? Arched windows on the garage door might be the perfect complement, tying the entire composition together.
Expanded design options — With so many shapes, sizes and styles available for garage door windows, you can customize your garage door to reflect your unique style. A one-of-a-kind garage door can give your home a huge boost in curb appeal.
A more versatile garage space — Do you use your garage space as a home gym, a rec center, an art studio or a "man cave"? You could! With windows in your garage door helping to light and enliven the space, the "bonus room" possibilities are endless.
Now that you understand the amazing benefits of garage door windows, let's talk about all the ways you can customize your windows to reflect your personal style.
What Type of Glass Should You Choose For Garage Door Windows?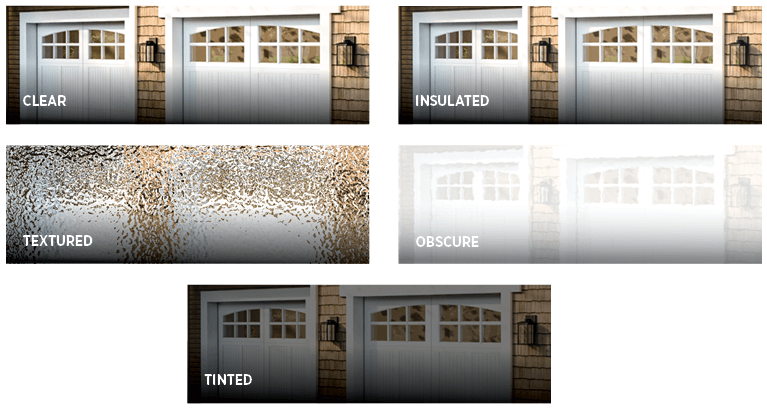 Garage door windows are not a one-size-fits-all product, and if standard glass seems a little too tame for your taste, we have good news. You can enhance the look and improve the performance of your garage door windows by choosing specialty window glass.
For extra durability, consider insulated glass. For more visual interest, opt for textured, tinted or obscured glass. Or, dream up your own unique vision and explore your options for customized glass. You're sure to find windows that offer protection from the elements while giving you an aesthetically pleasing garage door.
What Styles Are Available for Garage Door Windows?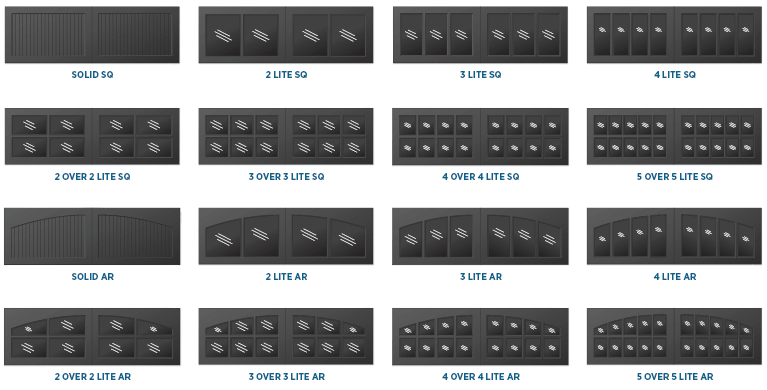 The beauty of custom garage doors is, when it comes to style, the sky's the limit! Customize your garage door windows based on the configuration of panes, or "lights," in the design. Customize the type of glass. Customize the shape of the window top, opting for arched or square.
The type of window you choose will depend on your home's architectural style and what kind of overall look you're going for. Keep it simple and traditional with a few square-top panes, up the ante with a more intricate arched-top configuration, or go bold with a sophisticated contemporary design.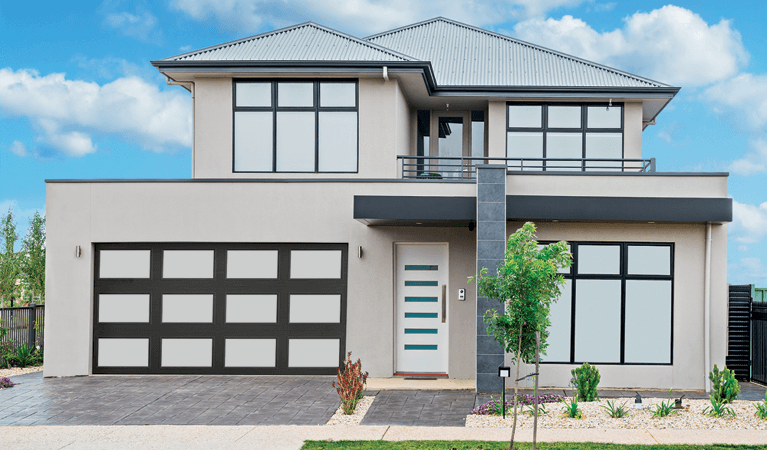 Contemporary garage doors maximize all those window benefits we discussed above, with oversized panes that grab attention and infuse a garage space with plenty of natural light. Contemporary garage door windows can be customized by glass type for a blend of style and durability, while the sleek and symmetrical appearance adds an instant "wow" factor to a home's exterior.
Are Garage Doors With Windows More Expensive?
Did you know that the average return on investment for a garage door replacement is 94.5%? In terms of increased property value, this is consistently one of the highest-ranked home improvement projects. So, a premium-quality custom garage door doesn't just look amazing; it basically pays for itself.
Additional design details such as windows will bump up the price of your garage door. On average, you can expect to tack between $300 and $500 on to the price of the door, depending on the style of window you choose. The more detailed your window design, the more the project is likely to cost. It's up to you how simple or extravagant you want to go.
The time and money you spend working to nail the design will pay big dividends when your garage has been transformed from ordinary to exquisite!
How To Choose Garage Door Windows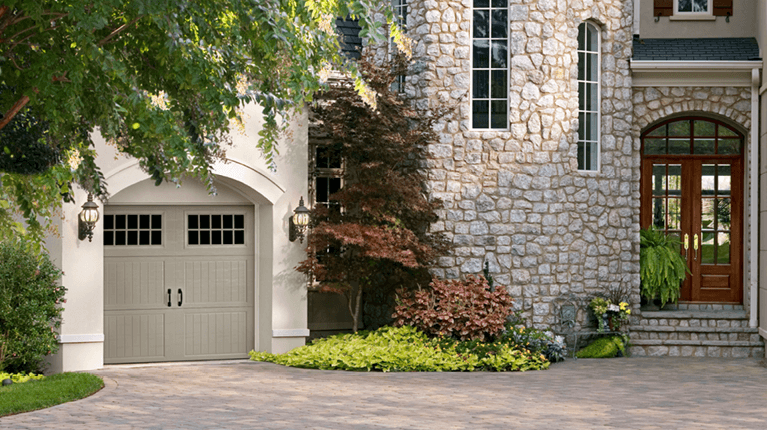 A new garage door is a sound investment that will provide years of pleasure for your family and guests. Ultimately, the decision to add windows to a garage door comes down to your personal preference and the type of look you want to achieve with your home.
If you prefer a more traditional style, or your garage is situated at the back of your property where it can't be seen from the curb, a simple configuration of square-top garage door windows might be your best bet. Or, if you have a front-facing garage and you're feeling adventurous, a contemporary garage door could be a real game-changer.
Choose a quality garage door builder who offers a wide range of customization options and will take the time to talk with you about your design vision. With all the incredible options available for custom garage doors, it's entirely possible to build your ideal garage door and make your home the most appealing on the block.