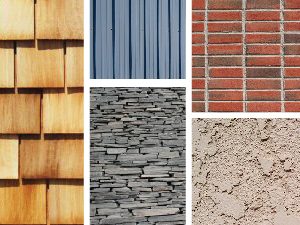 Possibly the most obvious way to add curb appeal to a home is by altering the actual facade. In recent years, builders and architects have noted that diversifying the materials on the face of homes has increased in popularity. And it's easy to see why. Using multiple exterior surface treatments gives houses a shot of immediate dimension, personality, and visual interest. The impact is undeniable; it can totally transform a house!
So, we know how exciting that probably sounds. There is one small caveat here, though. Many of the tips in this series are moderately simple for any homeowner to implement without professional help. Increasing exterior texture by adding different building materials is usually a bit more complex. Some options may have methods that a handy homeowner can execute, but with many of these, assistance from a professional will be the best way to go.
Of course, that doesn't mean you won't play a most integral role in the process. Before hiring help, you'll still have to decide for yourself which material(s) you want to add, and where you want to put them. Which options will look most attractive on your home? And how will you know where to put them? It only takes a bit of observation and knowledge to figure that out, and we're here to help.
Start by looking for divisions in your home's facade. Where does its elevation (proximity to the street) shift forward or back? Are there parts of front-facing roof gables that are separated by trim? Trim is a good way to find sections that occur naturally, offering a line to separate different textures from one another.
Decide what texture(s) works with your home. Pay attention to the preexisting color scheme, including hints of color in the exterior and undertones in its raw materials. Many exterior materials used to add texture have a natural color to them.
Many of the following options are available in synthetic versions, as well. Fiber cement, vinyl, and composite materials that mimic other types of siding are abundant in today's market. Your project size, budget, and other personal preferences will help you in determining which material to use.
One of the best ways to see what works is to browse combinations others have tried. Check out our inspiration board on Pinterest for ideas about texture combinations that look great. We've also assembled a gallery of texture options below.
Wood
Wood is a classic choice; it has been used in exterior design for centuries and has many varieties of application. Shown here are wooden shakes or shingles. These are a popular accent choice for roof gables. You may also see them on sections of exterior walls, or as the primary siding on the outside of a home. Other wood options include board and batten, shiplap, tongue and groove, and more.
Stone
Stone exteriors add such a beautiful, rich texture wherever they are featured. The look can also be simulated with stone veneer to easily cover another surface, such as an unsightly foundation. Some of the most popular applications is creating a stately exterior wainscot and either fully or partially covering porch columns. Whether it's large, rounded, castle-esque stone or more contemporary, thin river rock, stone is a popular choice for accenting many homes.
Stucco
Stucco has been widely used for years in Southwestern designs, but has been making its move to the East Coast and everywhere in between. Due to its many finishing options, stucco is quite versatile. It can be perfectly smooth or have a variety of different textures applied. It takes paint well, but it's also offered in lots of attractive natural tones. Another bonus is that it's fairly quick to have installed.
Metal
An oft-forgotten-about option, metal can be a versatile and unexpected twist to include in your home's facade. Including metal is all about the proper type, amount, and placement. Too much unpainted metal can feel cold and industrial. But in the right spot, with the right finish, it can be a great addition. Consider a corrugated metal gable accent, or a painted, vertically-oriented sheet metal wainscot. Sometimes bold choices are the most rewarding!
Brick
The old standby. Brick is great because it can pair well with all kinds of architectural styles. It comes in a huge variety of colors and can be painted, though many prefer to let its natural beauty shine through. Brick is another material that can be convincingly simulated with veneer or thin brick. Like stone veneer, simulated brick is an excellent option for covering foundations. Whether black, tan, red, or white, brick accents are a classic complement to any home.