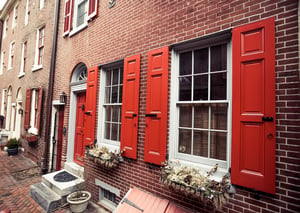 Elfreth's Alley is a historical landmark in Old City Philadelphia, designated as our nation's oldest residential street. Teeming with history and colonial flair, this alley boasts its own museum and guidebook for history-loving visitors. Any historical renovation done in Elfreth's Alley must follow a strict set of guidelines. We worked with Danner Windows to make sure the look of this home would comply with those regulations. Our Premium Wood, red panel shutters were made with the precision and care we give to all historical renovations.
Tomorrow, June 6, 2015, is the Fete Day celebration at Elfreth's Alley. In addition to free guided tours and entertainment, visitors can get a glimpse into the private homes of Elfreth's Alley.
If you find yourself visiting Philadelphia this weekend, we hope you'll take time to take in the sites…and the exterior shutters.