What's in Store...
These are exciting times for us. We recently spent time at the 2015 International Builder's Show where we spoke with many folks in the industry, from builders to architects, Realtors to manufacturers, and there are some definite trends that have become apparent for the emerging housing, building, and remodeling markets. As the economy continues to improve, we are beginning to see new home buyers venture into the markets, along with the traditional homeowner audiences seeking to improve their current homes.
The Trends are Not at All Unexpected
Throughout the last several years, longer for some, we've all been asked to do more with less. For the new home buyers coming into the market, especially the millennials who are now of age, this has been all they know, they were raised on the idea of the value of quality more than almost any generation prior.
Time and money are treasured, precious resources, not to be squandered. Their time and money must go further, so the trends that have come out are not surprising.
Omit Needless Features
From smaller homes and more functional spaces, white on white kitchens to centered tubs and double master suites, the new generation of home buyers has specific interests, and they're not surprising.
Their investments need to work for them. Mortgage interest rates are at historically low levels, levels unlikely to remain or been seen again in the near future. This is urging these new buyers to buy homes that will suit their growing needs.
No longer buying the "for now" starter homes, they are looking for homes that will serve them as their needs grow, but ones that they can afford now. Savvy buyers, these new ones are!
The lifestyle, the society, the world in which we raised them has made them very protective of their resources. As we ask them to do more with less, they expect the same. Technological experts, they balance their time in the most effective way possible, and want their homes to really be their castles.
They want comfort.
They want quality.
They want value.
They want less maintenance.
Customized Details
Never before has mass-customization been important. With the desire for unique still strong, our young first-time home buyers understand the cost savings of "customizable" versus custom. While carbon-footprints and green building are important, they also have to have a direct, provable value in savings. Natural materials are often a preference over synthetics for that, but combining the old with the new, traditional with contemporary, becomes their signature style.
Personalized Details = Signature Styles
Almost every detail must provide value. Whether it is a maintenance free floor, to bold color choices limiting design requirements and maintenance, it is always critical to remember that the home is a reflection of themselves, and it is their safe haven. It must serve them, in this hectic, chaotic society. Hence the reliance on open concept designs, reduction or elimination of unused formal rooms such as living and dining rooms, and needless extras such as full-on outdoor kitchens or expansive homes. Smaller homes with multi-use areas are key.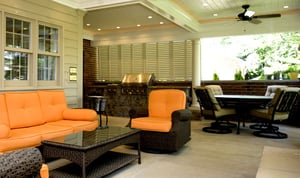 Outdoor living is no less important, perhaps even more important, than in previous generations. But a full outdoor kitchen or three-season media area is not critical. A design for accessibility to the indoor areas, providing a seamless flow between the two is more practical and efficient, less wasteful of space, materials and time.

All this attention to efficient, effective value may be construed as cookie cutter, reminiscent of the suburban-sprawl communities that sprang up in the 1950s, with basic materials, construction, and fixtures.
That Would Be a Huge Mistake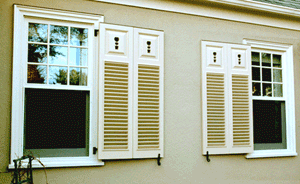 This generation was also raised to respect and appreciate quality, and the value that is found in high quality details and craftsmanship.
They have a deep appreciation for finer details, and having delivered on doing more with less in the school and work worlds, have earned higher quality details. They are not shy when it comes to comfort demands. Spa-like retreats for master suites and master baths are expected. Intricate woodworking details are desired. Unique expression is in the details and the customizations.
With this in mind, the Millennials are our new best friends. They stand for the beliefs and values that our company was founded on and meticulously adheres to every day. We look forward to serving this audience as they purchase their homes (retreats) and adorn them with the details and furnishings that make them unique and provide the return on investment they are looking for.
Shutters can protect investments in high quality drapery and furnishings from damaging sun
Shutters provide distinct, personal touches when customized
Shutters emphasize the traditional aspects of the home
Shutters add curb appeal
Shutters can provide modern details on traditional homes.
References:
National Association of Realtors
http://realtormag.realtor.org/home-and-design/feature/article/2014/12/21-hot-housing-trends-for-2015
National Association of Home Builders
http://www.nahb.org/