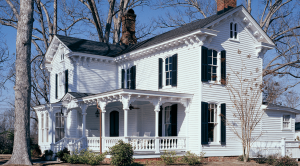 We've all heard, "don't judge a book by its cover," but few actually adhere to this rule when it comes to housing. Curb appeal and first impressions have quite the impact. In fact, Builder magazine recently reported that "home buyers make a 'street decision' in less than 12 seconds on whether to view a home."
As such, one might reasonably conclude that homes are judged more heavily by first impressions than, say, books. Luckily, there are many easy ways to amp up your curb appeal. Even better news? Plenty of high-impact exterior remodels are budget-friendly, as showcased in this informative slideshow by This Old House magazine.
Realtor Magazine puts together a handy Remodeling Impact Report annually to evaluate which projects offer the greatest return on investment. Some updates remain at the top of the list year after year, while others come into vogue as styles and trends shift over time. And based on data gathered in 2016, one thing is certain: outdoor features are a great home investment.
Thinking you might want to spruce up your home's exterior? Then you're in luck. We've gathered some ideas to get the wheels turning—a combination of classic wins and 2017 trends. For now, we'll get started with a basic overview. Then, in later posts, we'll delve deeper into each of these exterior design details. So stay tuned—we're sure to strike something on your curb appeal most-wanted list.
7 Options for Better Curb Appeal
1. Color
Perhaps a designer's most essential resource, thoughtful use of color can transform a home with just a few coats of paint. Choosing the right palette and applying accent colors to the door, trim, and details such as shutters will be the key to making your facade pop.
More on this topic here.
2. Grand Entrances
Architects and homeowners have been trending towards using the door as a focal point. Design your door and its surrounding treatment to invite guests in with a statement piece.
More on this topic here.
3. Added Textures
Stone, brick, and siding are coming together in style. Facades with different materials on different sections or featured in wainscoting is a great way to add dimension to an otherwise bland exterior.
4. Landscaping
Plant life can have a tremendous impact. Dealing with a brown thumb? Simple fixes like a tree-shaded yard, fresh green grass, or low-maintenance gardens work great. Feeling more adventurous? Planting bright flower beds or curating a unique container garden allows you to really personalize your property.
5. Window Upgrades
Updating old windows can improve a home's value on many levels. On the practical side, you'll benefit from newer, energy-efficient materials. Aesthetically, you can increase the natural light inside while completely changing your home's look on the outside. It's as easy as adding new windows and shutters into the mix.
6. Outdoor Art and Lighting
From birdbaths to sculptures, traditional to modern, standalone pieces to menageries—there are so many options to personalize! Adding tasteful light fixtures throughout your outdoor space can highlight your home's details and beauty.
7. Added Character
Accented trim, moulding, columns, deep porches, dentalation, and other details are making a huge comeback. Overall, homeowners are veering away from cookie-cutter exteriors in favor of adding unique visual interest to their homes.